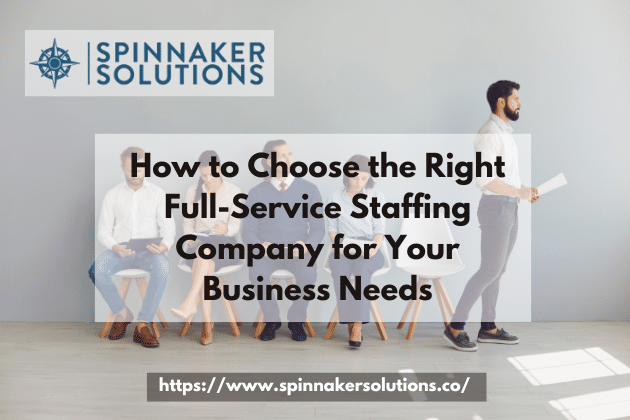 Finding the
right full-service staffing company
for your business needs can be a difficult and complex process. With so many companies offering varying levels of services, different price points, and specialized resources, it is important to research each potential hire thoroughly before making any commitments. By understanding what makes a full-service staffing agency stand out from its competition, you'll not only make sure that you're getting the best value for your money but also save yourself plenty of time in the long run by avoiding those who are not likely to provide quality service. This blog post will discuss how to choose the right staffing company for your business needs – including an overview of key elements to consider when researching potential hires as well as tips on improving workflow using the right people and processes. Let's dive into this topic together!
Understand the Different Types of Staffing Companies and Their Services
Full-service staffing agencies provide an invaluable service to businesses of all sizes; they are able to quickly locate and hire employees for short-term, long-term, and permanent positions. Full-service staffing companies should be chosen with care; each one offers different services and levels of expertise. There are general recruitment firms, industry-specific firms, and executive search firms that focus on leadership roles. The right agency for your business needs will depend on the position you need to fill as well as what industries you work in. It is important to research each agency before making a decision to ensure that their services are a good fit for your hiring needs.
Research the Company's Reputation and Track Record
Doing research on the company's reputation and track record is an essential part of making sure you are selecting the right full-service staffing company for your business needs. Prior to making a decision, take time to review industry rankings and accolades, as well as read through feedback from customers. It is also important to look at whether the firm has contributed significantly to ongoing technological transformations and developments in their field – these experiences can be critical when it comes to achieving the best results for your organization. Knowing what past employers have said about working with the potential partner can provide insight into how that relationship may progress in the future and whether they are an ideal fit for your team.
Consider the Company's Pricing Options
When looking for a full-service staffing company, it is essential to look at the company's pricing options. Evaluate their rates compared to your budget and research what services are included with each option. Are you simply purchasing temporary staff and paying hourly, or can you purchase a package that includes additional benefits such as onboarding and HR services? By comparing the features of different pricing models, you can get a better idea of which model will be the most appropriate and cost-effective for your business needs. Be sure to understand what the staffing company's process entails so there are no surprise costs in the end. Choosing a reliable staffing company is an important decision that requires adequate research; considering the company's pricing options is just one factor to keep in mind.
Analyze Your Hiring Needs & Goals
When considering a staffing provider, it is paramount to analyze your business needs and goals before deciding on the right provider. It is important to assess how many people will be hired, the necessary job skills, individual qualifications, and the estimated duration of the assignment. Doing this research upfront helps you find an agency that can supply qualified personnel with the right set of skills for each position. Furthermore, it enables you to choose a staffing company that embraces your timeline and overall vision of success. This holistic approach leads to a successful outcome as you strive to meet your hiring goals.
Ask for References and Reviews from Previous Clients
Before selecting a company to meet your business needs, it's critical that you ask for references and reviews from previous clients. Don't hesitate to conduct comprehensive research on the full-service staffing agency before making a decision. Whether you're looking to fill permanent or temporary positions, invest time in ensuring the staffing firm has a positive reputation in the industry. Ask questions about their level of customer service, experience providing services for businesses like yours, and the overall operations process when working with the agency. References and reviews can provide invaluable insight into an agency's capabilities and reliability so be sure to take advantage of them as you make your decision.
Review the Terms of Service and Contract Provisions
It is important to review the terms of service and contract provisions when selecting an all-in-one staffing company for your business needs. Take the necessary time to read through all materials related to the company–from their commitment letter, to contract terms and conditions, and more. It is wise to consider payment types, payment structures, as well as intellectual property licensing before executing any agreement with a full-service staffing partner. Clarifying these details upfront allows you to make an informed decision on how this partnership would benefit your business in the long run.
Choosing the right staffing company is essential for any successful business. Ultimately, the decision should not be taken lightly or made in haste. You need to research the various types of staffing companies out there and determine which one works best with your hiring needs and goals. Additionally, take into account the company's reputation and pricing, as well as its terms of service and client reviews. When done properly you should find a full-service staffing company that can provide all the services you need for a successful recruitment process. In the end, investing in proper talent acquisition will reap powerful dividends for your organization by operating more efficiently, saving time and money, meeting current labor needs, staying profitable, and opening up other potential avenues for success.